About Summit
Talk like humans. This is a key topic for everyone involved in communication departments of companies and institutions. And it is also the main idea of the Communication Summit 2020 by Blue Events. How to get rid of a "newspeak" companies and authorities often use? How to ensure that a form and content of your marketing and PR communication is not missing how real people actually behave? We can begin with the Golden Rule of "Don't do others what you don't want done to you". Without an honest effort to understand the other side, we just cannot "talk like humans".
Why Attend?
A total of 800 people attended the first two years of the Communication Summit. It has quickly become the top meeting of professionals in the field of PR and marketing communication. It is a perfect platform for exchanging views among client representatives from both companies and institutions and the agency representatives (including PR, advertising, research, consulting and media). If you believe that high-quality communication can achieve both better financial results and social impacts, then you must attend the upcoming 3rd year of the Summit.

"Great crowd, great content. I loved the way the Blue Events crew manage to compliment the big set-piece presentation with an intimate seminar for select clients. Inspiring and fun!"
Les Binet, Head of Effectiveness, adam&eveDDB
In 2019, we made a "big inventory" of everything that does (not) work in marketing and communication today. Then we asked Czech marketers what else would help them to improve. The answer is: Listen to customers, talk to them, be close to them. Generally, marketers think they should be more concerned with customer surveys and analyses than they are today. But it can be expressed in another way: let's talk like real people!

What´s On?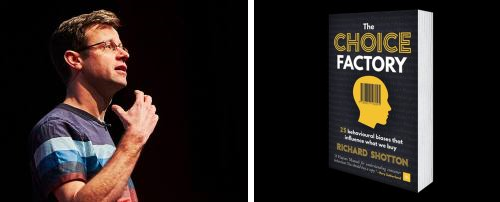 Communication Summit 2020 will focus on how to overcome barriers between companies and institutions and the people they talk to. It will help you to get better insights, understand human behaviour and influence it effectively. All you have to do are little "nudges", as behavioral economics calls it. Its leaders have recently received Nobel prizes and their knowledge is extremely valuable for communication and marketing. No one makes all this vast knowledge more accessible than Richard Shotton, the keynote speaker of the Communication Summit 2020. He is the author of The Choice Factory, a best-selling book on how to apply findings from behavioral science to advertising. All participants of the Summit will receive the new Czech edition of this publication.
"Richard Shotton is a great speaker", Les Binet, the Keynote Speaker of the previous summit, says. Les also has some very stong opinions on what it means to talk like real people. "A lot of marketing speak is bollocks. (…) Sloppy langunage leads to sloppy thinking, ineffective creative work and wasted money. If we want to serve our clients well, we need to choose our words well," Les Binet and Sarah Carter write in the book How Not To Plan (p. 152). So let's not get distructed by all those labels like "consumers", "millenials", "lovebrand" or "brand loyalty" from task at the heart of our jobs: understading real people.
Who Attends?
The Summit is visited by Marketing and PR Directors, Managers and Specialists, as well as CEOs.
The first two years of the Summit were visited mainly by clients. They came from sectors like FMCG, retail, industrial production, public institutions, finance and more. We have also seen a significant number of attendees coming from PR, advertising, research, consulting and media agencies.